New Jersey Convention and Expo Center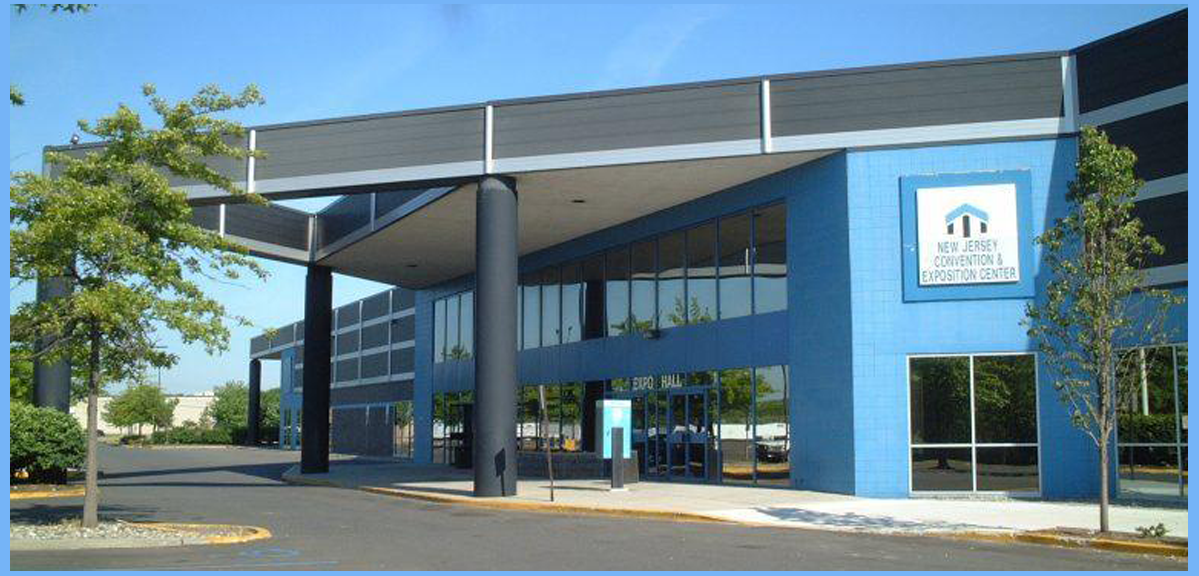 97 Sunfield Ave. Edison, NJ 08837
About Us
Background
NJCEC is not your typical convention center. We offer show promoters a venue to showcase their event any way they choose. With more than 150,000 square feet of exhibit space, we see ourselves as a blank canvas for a myriad of both public and private events. We are also a progressive building, making strides in shows, technology, and vendor capabilities. We strive to find the best for our clients and doing all we can to make their show a success.
What's Special
New Jersey Convention and Expo Center is a premier exposition, conference, and banquet center. Each year 1.5 million people enter through a grand atrium style entrance to over 25,000 square feet of pre-function, lobby space. The exposition space has a total of 214,000 square feet of multipurpose exhibit floor. The space is dividable into three exposition halls, and features 5 additional meeting rooms. The facility was carefully designed to meet all event needs. There are a total of only 45 columns throughout the entire exposition space. Each hall boasts a 28' ceiling with 24' true clear throughout, dedicated loading docks, 480 120/280 three phase power, and both wired and wireless internet connectivity.
Extra Special
The elegantly appointed Diamond Banquet and Conference Center welcomes all guests through a 25,000 square foot lobby. The 20,000 square foot Diamond Ballroom can accommodate up to 1,300 people at a banquet style setting. In addition, the entire column-free space is dividable into 5 rooms to accommodate smaller events. The Diamond Ballroom ceiling is a soaring 18 feet high and has been structurally designed for hanging light trusses and audio-visual equipment platforms.
Event Sponsors

Vykunt Developers

Event Co & Grand Sponsors

Sponsors

Donors

Pericherla Anjaneya Raju

Bronze

Suresh Kandala

Jewel

Penaka Family

Gold

Penmetsa Srinivasa Varma

Bronze

Bhupathiraju Subrahamanya

Bronze

SAGI Vijay Bapi Raju

Bronze

Penmetsa Shashank

Bronze

SAGI Jagadish

Bronze

Kankipati Krishna

Bronze

Bhupathiraju Srinivas Raju

Bronze

Pericherla Anjaneya Raju

Bronze

Jay Prakash Koduru

Bronze

Ramesh Mantena

Bronze

Radha Vinnakota Rao

Bronze

Mantena Surya

Bronze

Srikanth Gosike

Bronze

Mantena Viswa Prakash

Silver

Pramodha Devabhatuni

Bronze

Kosuri Srinivasa Raju

Silver

Naresh Gorantla

Silver

Gottumukkala Raghuram

Silver

Yuvaraj Pullela

Silver

Upendra Damacherla

Silver

Srinivas Kolla

Silver

TANA

Gold

Kiran Mandadi

Silver

Mujeebur Rehman Shek

Silver

Jay Talluri

Jewel

Vamsi Kota

Platinum

Kirti Reddy

Jewel

Madhu Bodapati

Platinum

Hari & Shanthi Eppanapalli

Bronze

Manohar Maddineni

Jewel

Narendra Ramineni

Bronze

Srinivas Palakurti

Bronze

Venkat Alapati

Jewel

Srini Chilukuri

Jewel

Srinivas Ganagoni

Jewel

Venkat Pasula

Silver

Ramesh Bellam

Platinum

Srihari Mandadi

Platinum

Krishna Prasad Surapuneni

Gold

Dr. Gudipati Chalapathi & Suhasini

Gold

Krishna Mallina

Gold

Prem Kalidindi

Bronze

Thomas V Allan

Jewel

Ramaswamy Gummadi

Silver

Bellam Sivaprasadarao

Silver

Rohini Kumar & Sangeeta Vemula

Bronze

Ranjeet Goli

Bronze

Sai Sudarshan Lingutla

Bronze

Suresh Chatakondu

Silver

Manju & Mohan Bhargava

Silver

Srinivas Malladi

Jewel

Venkata Gurram

Silver

Sridhar Mumgandi

Silver

Ravi Tandra

Silver

Naga Kolli

Platinum

Roja Chengalasetty

Bronze

Surya Guthikonda

Bronze

Vishnu Aluru

Silver

Vijay Vasireddy

Jewel

Hari Motupalli (AAA)

Platinum

Mallik Budhavarapu

Silver

Phani Yelamanchili

Jewel

Suresh Kagitapu

Jewel

Usha & Subash Darisipudi

Silver

Madhu Budati

Jewel

Rajendra Appalaneni

Platinum

Venkat Mantri

Jewel

Venu Sangani

Jewel

Vimal Kavuru

Gold

Sireesh Thummalapally

Silver

Anil Arumalla

Silver

Srikanth Chunduru

Silver

Seetha Ayyala

Silver

Dr. Satish Dasari

Jewel

Sudhakar Pennam

Gold

Manidhar Gudavalli

Silver

Koteswararao Boddu

Bronze

Ravi Atluri

Jewel

Shiki Vidala

Silver

Gandhamaneni Ramesh

Jewel

Dr. Chatargy Kaza

Silver

Gangadhar Vuppala

Jewel

Sridhar Kesani

Platinum

Bullayya Unnava

Jewel

Rao Nerusu

Jewel

Sridhar Gorantla

Silver

Ramana Rakouthu

Bronze

Kavitha Dodda

Silver

Mahesh Kakarala

Silver

Murali Krishna Boga

Jewel

Ravi Mandalapu

Silver

Saraschandra Batchu

Bronze

Kiran Tavva

Jewel

Dr. Purna Atluri

Platinum

RK Balineni

Silver

Kishore Garikapati

Jewel

Chaitanya Chittimalla

Silver

Naresh Jonnalagadda

Gold

Srinivas Manchikalapudi

Gold

Prabhakar Reddy Bellamkonda

Silver

Ramakanth Koya

Silver

Punna Suryadevara

Silver

Madhu Kolli

Bronze

Ravi Srikakulam

Platinum

Rajesh Nettam

Platinum

Suseela & Koteswararao Panuganti

Bronze

Sadasiva Katta

Bronze

Chakrapani Kundeti

Silver

Raj Dalawai

Silver

Narendra Pamulapati

Jewel

Sunil Paleru

Jewel

Murthy Koppaka

Gold

Veera Takkellapati

Jewel

Sumit Arigepudi

Jewel

Rajender & Vaidehi Devalapalli

Silver

Penmetsa Ravi

Bronze

Lakshmi Nandwada

Bronze

Aravind Paruchuri

Silver

Babu Medi

Bronze

Subra Osuru

Jewel

Dr Mohana Velagapudi

Jewel

Koteswara Rao Nalluri

Jewel

DR.VAIDEHI & N.S.SASIDHAR

Silver

Sreehari Konka

Gold

Vamsi Kadiyala

Platinum

Srinivas Gondi

Silver

Venkatesh & Sabitha Kanchinadham

Bronze

Ramesh Garlapati

Silver

Murali Krishna Medicherla

Silver

Amar Reddy

Jewel

Raghu Guthikonda & Satyam Veernapu

Silver

Sudhakar Uppala

Silver

Srinivas Arasada

Platinum

Kalyan Lakimsetty

Jewel

Venkat Dhaniyala

Platinum

Damu Gedala

Silver

Gangadhar Desu

Platinum

Satish Musuku

Bronze

Krishna Nimmagadda

Jewel

Yugandhar Vallabhaneni

Jewel

Srinivas Yarlagadda

Gold

Mahesh Adibhatla & Murali Pallabothula

Silver

Ugandhar Kumar Mukkamala

Gold

Karthik Modukuri

Silver

D V Prasad

Silver

Radha Alla

Jewel

Shiva Annamaneni

Jewel

Ramesh Garapati

Silver

Kiran Kothapalli

Silver

Narayana Reddy & Rami Katasani

Silver

Nandini & Srikanth Molakala

Bronze

Kishore Kantamaneni

Platinum

Vikram Vathsavai

Jewel

Lava Inampudi

Bronze

Niranjan Srungavarapu

Jewel

Raghuram Royyuru

Silver

Lavanya & Srinivas Todupunoori

Silver

Shiki Vidala

Silver

Kalyan Kaki

Silver

Srinivas Boppana

Gold

Surendra Edara

Bronze

Rama Krishna Gorrepati

Silver

Shyam Kunam

Gold

Uma & Suresh Makam

Silver

Krishna Ghanta

Platinum

Vijay Bandla

Platinum

Hemanth Kolla

Jewel

Dr. Dinakar & Padma Malladi

Silver

Ravi Parvataneni

Silver

Satya Sriramineni

Silver

Seshagiri Reddy

Silver

Rama Gandham

Bronze

Kalpana & Ramachandra Vanam

Bronze

Jagadish Darimadugu & Prasad Mallu

Jewel

Sudheer Atluri

Gold

Krishna Nimmagadda

Silver

Anonymous

Jewel

Raghu Konka

Jewel

Narendra Kadiyala

Bronze

Gadiraju Ramesh

Bronze

Srikanth Ponakala

Jewel

Bhanu Dhulipalla

Gold

Srinivas Chennuru

Jewel

Brahmaji Valiveti

Jewel

Chandra Kaza

Silver

Rajesh Chilukuri

Jewel

Kamesh Karra

Jewel

Sumit Arigipudi

Gold

Aadi Gelli

Gold

Dr. Jagga Rao Alluri

Silver

Srinivas Mylavarapu

Silver

Potturi Prasad

Bronze

Raju Chekuri & Abhiram Sannapareddy

Silver

Mahendar Musuku

Platinum

Sunand Suryadevara

Gold

Addagatla Babu & Sujatha

Bronze

Ram Naresh Kommanaboyina

Jewel

Nagraj Palivela

Bronze

Sushanth Chalasani

Jewel

Baswa Shaker & Rashi Shamshabad

Silver

Prashanth Madhyam

Jewel

Madan Pamulapati

Gold

Satya Chalasani

Jewel

Venkat & Durga Maddineni

Silver

Hareesh Jammula

Silver

Sudheer Chintamaneni

Silver

Sreedevi & Venkat Jagarlamudi

Silver

Ramana and Bindu Yalamanchili

Jewel

Dr. Gajula Ramarao

Silver

Dr. Prem Sagar Reddy

Gold

Madhu Rachakulla

Silver

Rajender & Vaidehi Devalapalli

Silver

Gayathri Boypalli

Silver

Ashok Chintakunta

Silver

Anand Thodapu

Bronze

Swetha & Rammohan Dileep Pynda

Bronze

Jyothi Vanam

Jewel

Gokul Putumbaka

Bronze

Ravi Maddi

Silver

Ravi Indrakanti

Bronze

Praveen Thadakamalla

Gold

Jay Prakash Koduru

Bronze

Srinivas Menta

Gold

Naveen Parupalli

Silver

Malli Tella (Softova)

Jewel

Ravi Alapati

Platinum

Vamsi Venegella

Silver

Rajendra Madala

Gold

Mohan Mannava

Platinum

Chandu Nangineni

Gold

Sridhar Addepalli

Jewel

Arun Sriramineni

Jewel

Krishna Nunna

Silver

Asha & Rambabu Vykuntham

Bronze

Heyer Devarapalli

Gold

Shankar Boddu

Jewel

Govardhan Bobba

Jewel

Satya Bhanu & Lakshmi Chaparala

Bronze

NMS Reddy & Narendra Babu

Jewel

Srinivas Pidikiti

Silver

Ranjith Chaganti

Diamond

Sekhar Vemparala

Platinum

Apparao Mukkamala

Gold

Naga Thota

Jewel

Sharath Chetty

Jewel

Om Nakka

Jewel

Venkat Yellavula

Silver

Rajesh Kandru

Bronze

Raghu Konka

Gold

Prasad Sannidhi

Bronze

Harish Koya

Jewel

Suresh Kondabolu

Bronze

Latha Talluri

Bronze

Praveen Gopu

Bronze

Kishore Gopu

Bronze

Srinivas Gutthikonda

Diamond

Hanimireddy Lakkireddy

Jewel

Subba Gopavarapu

Jewel

Suresh Bondugula

Gold

TANA Team (Naren Kodali)

Gold

Chaitanya Peddu

Gold

Prashanth Pinnamaneni

Diamond

Sai Suryadevara

Platinum

Vijay Sekhar Anne

Diamond

Kishore Kancharla

Diamond

Koteswararao Bodipudi

Gold

Chakradhar Voleti

Platinum

Raj Allada

Diamond

Sashi & Sunitha Makam

Silver

Vishwanath Chikoti

Bronze

Vamsi Koppuravuri

Gold

Dr. Srinivas Kodali

Gold

Srinivas Vuyyuru

Rhodium

Chandrasekhar Konidela

Gold

Sreedhar Appasani

Diamond

Bapu Nuthi

Platinum

Dr. Murthy SR Badiga

Gold

Nagendhar Madhavarapu

Bronze

TP. Srinivasa Rao

Platinum

Sekhar Pasupuleti

Silver

Dr. Madhu Korrapati

Gold

Sri Atluri

Platinum

Srinivasa Sai Budala

Jewel

Sarat & Sridevi Bhumi

Bronze

Harinath Bungatavula

Gold

Suryanarayana Maddula

Silver

Cherukuri Vijay

Silver

Sekharam Kotha

Diamond

KIshore Mamillapalli

Jewel

Aruna and Suryam Ganti

Platinum

Ramu Venigandla

Rhodium

Shyam Nalam

Platinum

Anshra Charitable Foundation

Gold

Srinivas Gattu

Silver

Venkat Yellavula

Jewel

Punnam Manthena

Jewel

Narasimha Telukuntla

Jewel

Prabhakar Reddy Yeruva

Jewel

Surya Bezawada

Jewel

Girish Eyyapu

Jewel

Johnny Nimmalapudi

Silver

Satish Veera

Jewel

Ravi Atluri

Jewel

Om Nakka

Jewel

Vinay Mahajan

Jewel

Gowri Karrouthu

Bronze

Nageshwar Aita

Bronze

Dheeraz Govathoti

Jewel

Satyanarayana Rao Alluri

Silver

Media Partners